RPG Yaoi Fanworks Webring
Your HTML Code
Copy and paste this bit of code onto your webpage if Webring doesn't automatically give you your code. THIS IS REQUIRED IF YOU WANT ME TO ADD YOU TO THE WEBRING.
Go HERE to choose the image you want to use.
This is what it should look like:
This RPG Yaoi Fanworks site owned by YOUR NAME.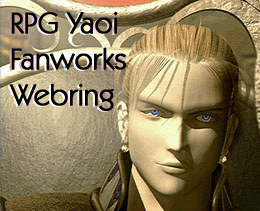 [ Previous 5 Sites | Skip Previous | Previous | Next | Skip Next
| Next 5 Sites | Random Site | List Sites ]